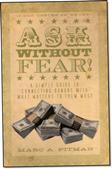 Billions of dollars will be given away this year. Don't be left out!
The fundraising book and fundraising DVD have helped thousands of nonprofit leaders, employees, and board members get comfortable with making asks!
But people don't always read or watch DVDs. Now there's the Ask Without Fear! Fundraising Class!
In this 90-minute class, you'll learn how to go through each step for the fundraising process. You'll also get time to ask Marc questions about your own situation. As you learn the tricks and secrets, you'll begin to feel more confident!
There are no scheduled courses at this time. Get the same great information by purchasing the Ask Without Fear! DVD
Here is a taste of what you'll learn in:
Research
How to set your fundraising goal
What a gift range calculator is and how it can help you figure out what levels of gifts to ask
How to "sell" those levels
How to learn more about your donors
An easy way to have your board help your prospect research
"Great energy and knowledge. Really showed that fundraising can be fun and rewarding career."

Conference attendee, Montreal
Engage
The biggest thing nonprofits forget to do in fundraising
How fundraising is like dating
4 simple questions that can help you in any networking situation
"[Marc] is very knowledgeable and energetic, engaging audience members and helping them understand specific things they can do to be successful in their positions…I highly recommend him…"

Rachel Hutchisson
Director of Marketing Programs and Events
Blackbaud, Inc., Charleston, SC
Ask
The #1 reason people give
Specific phrases for getting the appointment
How to tailor your ask specifically for your prospect–even during the first meeting
What to do if you over ask
What to do if you under ask
How to overcome objections–before they happen
"Thanks so much for all you are sharing with me! I am actually enjoying learning about fundraising! I didn't think that was possible."

Cami Foerster
Chairperson of the Board of Directors
The Boston Project Ministries
Love
How many times you should say "thank you" before asking for the next gift

How to infuse communication with language that shows donors they made a wise investment
How to effectively handle a "no"–and bring it around for a future gift
The day after a live version of Ask Without Fear!, one participant emailed me to say:
I enjoyed your seminar so much, as did Danielle. We walked away very excited, and have already increase the number of people that will be at our next meeting, as well as more businesses coming on board to add to our fund raising. We have incredible things going on, and now adding what we have learned from your seminar has just motivated us even more.

Thank you so much for the gift you have given to us.
Upcoming sessions
There are no upcoming sessions other than talks Marc is doing at conferences and for nonprofits that bring him in to speak. If you don't want to wait for the next open class, purchase the Ask Without Fear! DVD for you and your team to start learning!
If you want a full day retreat for your board or team, check out www.BoardRetreatPacks.com.
If you'd like to have Marc come to your area, let our team know by filling out this form:
https://forms.zoho.com/concordleaders/form/FRCTraining