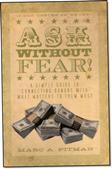 I published the first Kindle edition of my fundraising training book almost three years ago! It was first a PDF, not very Kindle-friendly. Then I created a file through Amazon's digital publishing tool.
I'm pleased to announce that today, I uploaded a professionally designed version of "Ask Without Fear!", designed by eBook Architects specifically for the Kindle.
None of the content as been changed. But the formatting should be much better than it has been.
The best part? If you already have purchased the Kindle edition, you need to do nothing. The next time you sync, this version will be installed automatically!
Of course, if you don't have the Kindle edition, what are you waiting for? You can get your copy here: Ask Without Fear! Kindle edition
You can also get it as a non-Kindle ebook here at the FundraisingCoach Store. And the Apple iBook version should be available in the coming weeks.