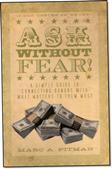 Tomorrow I'm teaching my first "open" fundraising class. It'll be held in Lewiston, Maine at the Androscoggin County Chamber of Commerce.
For more information, and to register for the class, go to https://fundraisingcoach.com/class.
Apparently people are finding this lower price-point option fits with their ever tightening budgets!
The idea has proven so popular, I'm already in talks to bring this class to three other cities up and down the East Coast. Two organizations are even planning on using the class as a way to raise funds for their own missions.
If you think your area nonprofits and boards could benefit from an Ask Without Fear! Class send me an email at marc@fundraisingcoach.com. I'd love to see what we can do!